Description
The Manor Farm Light Railway speed wagon is joint venture between Tom Burton (an electronics engineer by profession) and Bole Laser Craft.
Speed Measurement
The speed wagon contains an on-board computer that constantly monitors the wagon's speed via an infra-red detector and wheel mounted encoder. The scale speed is then displayed on a large LED display in the wagon's roof (this can be either MPH or KPH). The screens brightness can be altered by an underfloor knob.
Computer is powered by 6 AA alkaline or rechargeable batteries (not included). To enable the use of rechargeable batteries a charging socket (compatible with Roundhouse charges and others) is installed together with a "charging" position on the underfloor power switch.
The Wagon
The wagon is an adapted Bole Laser Craft tool wagon. The body is laser cut poplar plywood with engraved planks and corner rivet plates. The roofs are hinged so that the operator can get to the batteries when required.
The chassis is constructed from black acrylic with 3d printed nylon axle boxes and leaf springs. 24 mm diameter nylon wheels are fitted on silver steel axles.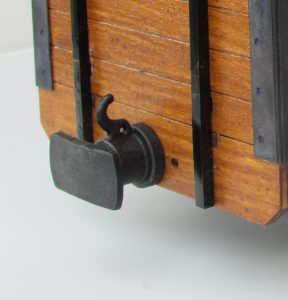 This wagon is available in both 32mm and 45 mm gauges.

Please note that both the 32 mm and the 45mm versions now come with a screw mounted central coupler (to allow the customer to change the coupling to one of their own choice).
Please note that this wagon is only supplied complete and tested, not as a kit.
MFLR Speed Wagon Operating Instructions
N.B This item incurs our "Bulky Postage" rate (see the delivery charges page)