Description
These Trefor pedestal bearings where manufactured for our Trefor Mill wagons and based on photos found in a magazine.
Dimensions (millimetres)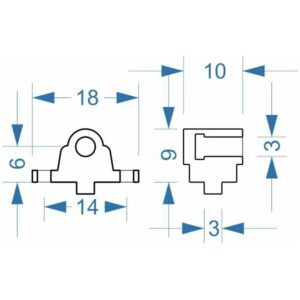 Engineering Nylon
The bearings are made from Selective Laser Sintered nylon with an attractive "charcoal black" finish. An engineering grade nylon is used to give a tough and free running axle box without the need for separate (and sometimes problematic) bearing inserts although we do recommend lubricating the axle journal with a light machine oil occasionally.
Easy Mounting
The bearings are simply screwed to your sole bars bottom face with the supplied No 2 (i.e. very small) self-tapping screws. Alternatively if you are a "hex head fan" they can be bolted on with 8BA nuts and bolts (not supplied). The mounting plate has a 3 mm diameter locating spigot
Compatibility
To provide compatibility with other makes of steel wheel as well as our own; these pedestal bearings features 3.2 diameter journal bores. This size provides free running with 3 mm axles.
This home builder packs includes four axle guards and 8 self-tapping screws. I.e. enough for one wagon.